With "Under the Radar," I am spotlighting artists who I believe are completely underrated and unappreciated. 
I first heard U-KISS last summer, when I started listening to K-pop. At the time, "0330" was basically the most requested song for the internet station I was using to listen to K-pop.  From its softer melody, to its geeky geometry reference, I thought it was a great track. When "Neverland" came out, especially with the single "Someday," I became a big U-KISS fan. Seriously, I was always requesting the BBR DJs to play "Someday." HAHAHA. After listening to their other songs, imagine my surprise when I read that they had never won on a music show.  I figured a group with great dancing and vocal talent would have won at least once. I admit, this "Under the Radar" has been difficult. I'm not sure if it's simply for the fact I can't think of reasonable possible causes of U-KISS being underrrated or because I love them so much. They are very endearing guys who have worked so hard for 4 years without much to show for it.  I wonder what people in Korea are thinking, honestly. First I talked about ZE:A, now I talk about U-KISS, and I'm still confused on what makes for good music there.  Hopefully, you'll be patient with this post and understand what I am trying to say.  I apologize if it isn't very good or well written, since this one was hard for me. HAHAHA. Oh yeah, "Stop Girl" is freakin' awesome!!!

Today's spotlight is on U-KISS!
Name: U-KISS (Ubiquitous Korean International idol Super Star)
Label: NH Media
Fan Club: KISS Me
Debut Date: August 28, 2008
Members:
____________________________________________________________________
History:
U-KISS debuted in Korea on August 28, 2008, as a six-member group: Alexander Lee Eusebio, Soohyun, Eli, Kim Kibum, Kevin, and Dongho.  Kibum and Kevin were actually former members of the group, Xing, and had experience.  U-KISS featured members with multiple-language skills, along with speaking Korean. Kevin speaks English; Eli speaks English and Mandarin; Dongho speaks Mandarin as well. Former members Kibum spoke Japanese and Alexander could converse in Spanish, Portuguese, Cantonese, Japanese, Mandarin, and English. Due to this, the group had Japanese investors in hopes of creating a real international group. Their first mini-album was New Generation, and they promoted with the title track, "Not Young."
U-KISS became popular in Thailand with the release of their second mini-album, Bring It Back 2 Old School. Their third mini-album, ContiUKiss, saw a change in the group's line up with the addition of Kiseop.  There also was a concept change, as the group switched to a more masculine and dark image.  The lead single "Man Man Ha Ni" saw the popularity of the group grow. After its release, the album ranked #6 on MNet.
Their fourth mini-album was Break Time, and three days after its release, the album charted at #3 on the Hanteo Music Charts.  However, the MV for the title track, "Shut Up!", stirred up some controversy. After being flagged for content on YouTube, the group released a clean version of the MV and a version for TV broadcast.
U-KISS's first full length album, Only One, was released in February 2010.  Track "Bingeul Binguel" was a hit in the Philippines and was the highest charting track for the group. The day after its release, the album topped the Hanteo Charts. It also landed at #3 on the Gaon Weekly Album Charts.  For promotion, U-KISS held performances in Malaysia, Mongolia, and Japan. Due to the success in the Philippines, U-KISS held their first major concert there.  During this time, Kevin and Alexander were hosts of an English-language segment on Arirang's radio show, Pops in Seoul, and also appeared in Brave Brothers' song, "Finally."
2011 marked a turning point for U-KISS. Initially, plans were announced for an American debut.  However, those plans were put on hold indefinitely with the contract termination of Alexander and Kibum. They were replaced by AJ, a former member of Paran, and Hoon, an experienced soloist. In March, the group made a comeback, with the new members, by releasing Bran New Kiss. For the title track, "0330," they released both an original and drama version MV. The title track also debuted at #1 on the Hanteo charts due to high digital downloads and airplay. In preparations for their official debut in Japan, U-KISS released a compilation album, First Kiss, and a Japanese version of Bran New Kiss.
In September 2011, U-KISS released their second full album, Neverland.  The single "Someday" was released prior to the album and was performed along with title single, "Neverland." Both tracks appeared on the Billboard Korea K-Pop Hot 100 chart. The singles also did well on the Gaon chart, and the album did well on the Hanteo chart, peaking at #1.
In December of 2011, U-KISS released their first Japanese single, Tick Tack. Upon its release, the single placed third on the Oricon daily singles chart. The limited single was also sold out within the first week, and the next day, Tick Tack ranked first on Tower Records chart.  In December, they also released a special MV for KissMe, called "Eternity (For KissMe)." This track was a remake of a song by labelmate UN.
In February 2012, U-KISS released a mini-album, Forbidden Love, and the full-length album, Shared Dream, simultaneously in Japan.  A Shared Dream debuted at #6 on the daily Oricon Chart, and in March, the album jumped to #2 in the daily chart. The album also debuted atop the K-Pop Album Chart of Tower Records.  U-KISS subsequently began touring. They became the first k-pop group to perform in Columbia and also the first group to do a fan-meeting, along with doing charity, in Cambodia.  U-KISS' tour in Japan sold out, which included six different cities and extra dates added.
In April of 2012, U-KISS made their Korean come back with DoRaDoRa. The AJ-written track, "Amazing," was released prior to the official release of the album.  The album peaked at #1 on the Hanteo Weekly Album Charts and #10 on the monthly chart. In May 2012, "DoraDora" gained the #1 spot on Germany's German Asian Music Chart.
In June of 2012, a special mini-album, The Special to KissMe, was released. "Te Amo" was released first and placed first on the Soribada chart. Following this, the promotional track "Believe" was released. Once again, AJ took part in the album by composing "Believe."
In July, U-KISS released the Japanese single, Dear My Friend. The title track was used as the ending theme song for "Arashi no Yoru ni Himitsu no Tomodachi," an anime. The single peaked at #5 on the Oricon Daily Singles chart and at #8 on the weekly chart.
In August 2012, AJ took a leave of absence to begin his education at Columbia University (which speaks to his high intelligence).  In September 2012, U-KISS released their fourth Japanese single, One Of You.  Within the first week, the single peaked at #1 on the Tower Records chart. Also in September, U-KISS received the "Special Hallyu Achievement Award" from the minister of the Ministry of Culture, Sports, and Tourism, in recognition of their efforts to spread the Hallyu Wave.
Just like in previous comebacks, U-KISS released a song prior to their comeback. This time they released "Cinderella." Most recently, as in last night, U-KISS released the MV for the title song "Stop Girl," from their seventh mini-album, Stop Girl.  I'll update this post when rankings and whatnot come out.
____________________________________________________________________
Possible Reasons for Being Underrated:

Label
As with a lot of underrated groups, U-KISS comes from a small label, NH Media. To my knowledge, U-Kiss is the only artist under the label, other than the old-school group, UN.  As I've mentioned before, it is difficult for groups from smaller labels to compete with those of the Big 3. It's not due to lack of talent (as I will discuss later), but probably due to the inability to get on the variety shows and music shows to fully showcase your talent. If a company has to choose between featuring U-KISS or, say, SHINee, they are probably going to go with SHINee most of the time. Of course, there is also the issue of funding. The smaller labels simply don't have the funds to properly promote artists compared to bigger labels. Hopefully, this will change in the future.
Member Changes
Membership changes can create problems with groups. In 2011, Alexander and Kibum left U-KISS. I've seen enough comments on U-KISS videos to know that there are quite a bit of fans who still have issues with this.  With the loss of members that people had become attached to, you risk losing a portion of your fan base. When it comes to winning music shows and buying albums, fan bases have a big impact.  Also, if the sentiment of fans changes, it can impact the incoming artists, despite the new members being talented.  Chemistry will also have to be worked out, which may influence the type of performances and songs the group creates. I must say, though, that the new members of U-KISS are talented.  I also think the quality of songs has improved, or at the very least, stayed at a consistent high level.
Debut
The debut of U-KISS was a bit lackluster. *The following statements are opinion only*  With the debut song, "Not Young," you would expect a highly masculine concept. However, this wasn't the case. At the time, Dongho was only 14. That's right, a 14-year old was singing about being a grown man and not young.  The MV was also youthful and you couldn't help but notice the still-boyish image of the group. Then there was the goal of the group.  When formed, U-KISS was to be a group focused on international appeal and was seen as a Korean-Japanese collaboration effort. This could have possibly ostracized the Korean public, especially with the language skills of various members and unofficially debuting in Japan the week before debuting in Korea.  Of course, this previous Japanese debut may explain their popularity in Japan, and the language skills have helped them win over international audiences.
Timing
U-KISS definitely had some bad luck when it came to the timing of their debut and come backs. They debuted the same year as multiple big-name artists: Davichi, SHINee, 2PM, 2AM, and Mighty Mouth.  Three of those groups came from the Big 3. During their debut in August 2008, you also saw the come back of Big Bang with their mega-hit "Haru Haru."  Their comeback in February coincided with SNSD's comeback, with "Gee," and Seungri's "Strong Baby."  These both are still popular songs. Although "Man Man Ha Ni," from their November 2009 comeback, saw a rise in popularity, they still had to face off with SHINee ("Ring Ding Dong") and SS501 ("Love Like This").  Once again, in February 2010, they were up against massive favorites, SNSD. They also  promoted alongside 2NE1, SHINee, and 2PM in October. When U-KISS returned in March 2011, with a new line up,  they were against CNBLUE and Big Bang.  During their "Neverland" promotions, U-KISS faced off against Super Junior and KARA. In 2012, U-Kiss has promoted at the same time as INFINITE, SISTAR, TaeTiSeo, G.NA, Wonder Girls, and f(x).  With their latest release, they'll once again be promoting at the same time as KARA, along with powerhouse G-Dragon.
____________________________________________________________________
Reasons I Think U-KISS is Underrated:
Talent
U-KISS is a truly talented group. Hoon, Kevin, and Soohyun are amazing vocalists. Kiseop, who I initially thought was just the "visual" of the group since he seemed to never sing, actually has a quality voice. AJ, Eli, and Dongho do really well in the rapping department. Unlike some rappers, they also have the ability to carry a tune, to the point where they sound better than some vocalists in other groups.  Their ability to harmonize as a group is also very impressive. You can hear it well in the "Someday" performance below, and in their new song. U-KISS is also talented in the dance department. I swear, they have some of the best body rolls I've ever seen performed by guys. HAHAHA.  They are also good with intricate feet movement, not to mention the drops from "Neverland." With their recent MV, "Stop Girl," this dance talent came out in full force.
Music
Excluding "Not Young" (you still can't get me to like that song), U-KISS has continually put out quality music.  Bring It Back 2 Old School, Only One, ContiUKiss, and Break Time were produced by hit-maker Brave Brothers.  I have to say that I'm glad U-KISS separated from Brave Brothers, since their music now has less auto-tune (and no more annoying "Brave Sound"). After listening to most, if not all, of their songs, I can say that the quality has improved. When U-KISS came back in 2011, AJ added another weapon to U-KISS's arsenal: lyricist. "0330," the title track for Bran New Kiss, featured lines that were written by AJ, including my favorite geeky line ("don't deny our r2π") . He also contributed on Neverland, by writing  the song "Obsession," and helping write "Love of a Friend" and "Tell Me Y."  Kiseop helped produced "Obsession." For the album DoRaDoRa, Jay Park and Cha Cha Malone helped by writing the song "4U."  AJ once again partook in the album by writing the pre-released single "Amazing."  U-KISS has a good balance of songs: from heavy dance tracks like "Neverland," to ballads like "Someday," and to the R&B in "Stop Girl." They even included dubstep in "Forbidden Love." The songs are also catchy. I'm sure others, besides myself, went around singing "DoRaDoRa" constantly upon its release.  The group also isn't afraid to take risks by adding different types of sounds and genres to produce an interesting and good song.
Appearance
I'm actually going to spend less time on this section, due to my being a huge fan is about their music and performances. First, let me say I'm really digging Kiseop and Eli's fauxhawks. I would say they were full mohawks, but they still have hair on the side. Still, their hairstyles are awesome for this promotion.  U-KISS provides a lot of variety in their looks, and all are attractive. Dongho, the maknae, looks older than he is and has masculine appeal. Yet, he also makes a pretty girl.  Kevin is a flower boy: tall, thin and has a pretty face. Kiseop, who I think is the visual member, has a strong, yet soft face, and a really nicely built body. Kiseop was even an ulzzang.  Hoon, Eli, and Soohyun are masculine with muscular bodies (as compared to Kevin).  AJ is lanky and has an affinity for odd hair (or maybe it's his stylist hahaha).  If nothing else, U-KISS' visual concepts are top-notch and different every time.
Character
U-KISS has shown a lot of tenacity in their continuing comebacks. Despite have never won on a music show, they still put out music and perform.  U-KISS also is not afraid to go against the big names in K-Pop.  Such efforts should be applauded. Also, to say they are good guys would be an understatement. As mentioned earlier when discussing Cambodia, U-KISS is generous. While in Cambodia, the group held a charity fan-meet, visited local schools, played with the students, and handed out baseball equipment.  U-KISS is very gracious when it comes to their fans. If anybody follows them, you know they constantly reach out to Kiss Mes and thank them for their support.  They also offer words of encouragement. Hoon is actually pretty cute on twitter: he greets the day by saying "Hoon Morning." The guys are also pretty amusing.  You need to look no further than Eli the Pigeon.
____________________________________________________________________
The Future of U-KISS
I will once again point out the success U-KISS has had in Japan. I seriously think that's the trend in K-pop:  the more international success you have early in your career, the less successful you are in Korea.  U-KISS has sold out concerts and topped the charts in Japan. They were also selected as the "#1 Hallyu Group to Watch Out for Japan" and Kevin was selected as the "The Luckiest Hallyu Star of 2012" (I have no idea what that means, but he still won hahaha).  The group participated in 'a-nation,' which is the largest Japanese summer concert.  The U-KISS members were also endorsement models for optical brand Zoff.
U-KISS has won awards in Korea. In 2011, they won: SBS MTV Korea Best of The Best: Best Male Music Video; 19th Korean Cultural Entertainment Award: Best Male Idol Group; and 12th Korean Video Daejun Award: Most Photogenic of the Year. U-KISS also won: the 2008 Rookie of the Year at the Asia Song Festival; the 2011 Most Influential Artist in Asia at the Asia Song Festival; and the 2011 Most Potential Overseas Idol Group at the CHINESE TOP Awards Concert.
U-KISS has experience in variety shows, dramas, and films.
In between 2008 and 2010, U-KISS was involved in four of their own variety shows: You Know U-KISS, All About U-KISS, U-KISS Vampire, and Chef Kiss.
Dongho has been particularly active. He's partaken in multiple variety shows: Invincible Baseball Team, Raising Idol, Idol Maknae Rebellion, and Idol League.  Dongho has also acted in various dramas and films.  Most recently he was in the TV-movie series, Holy Land (along with Hoon).
Eli acted in Autumn Destiny and Real School (along with Dongho and Kiseop).
In 2011, the group made a cameo in the movie Mr. Idol.
Hopefully, U-KISS will find a way to the hearts of Korea. They have won over hundreds of thousands of people internationally, but seem to have hit a block in Korea. It would be nice for them to be on more variety shows. I think Soohyun, Hoon, or Kevin would be great on Immortal Song 2. With their activities, there is a chance that U-KISS will gain more attention and respect.
Kevin once said he would cry if they won #1 on a music program (which caused his fellow members to cry).  While I'm not sure what the future will hold, if they win #1, I'm sure most people will cry along with them.
U-KISS FIGHTING!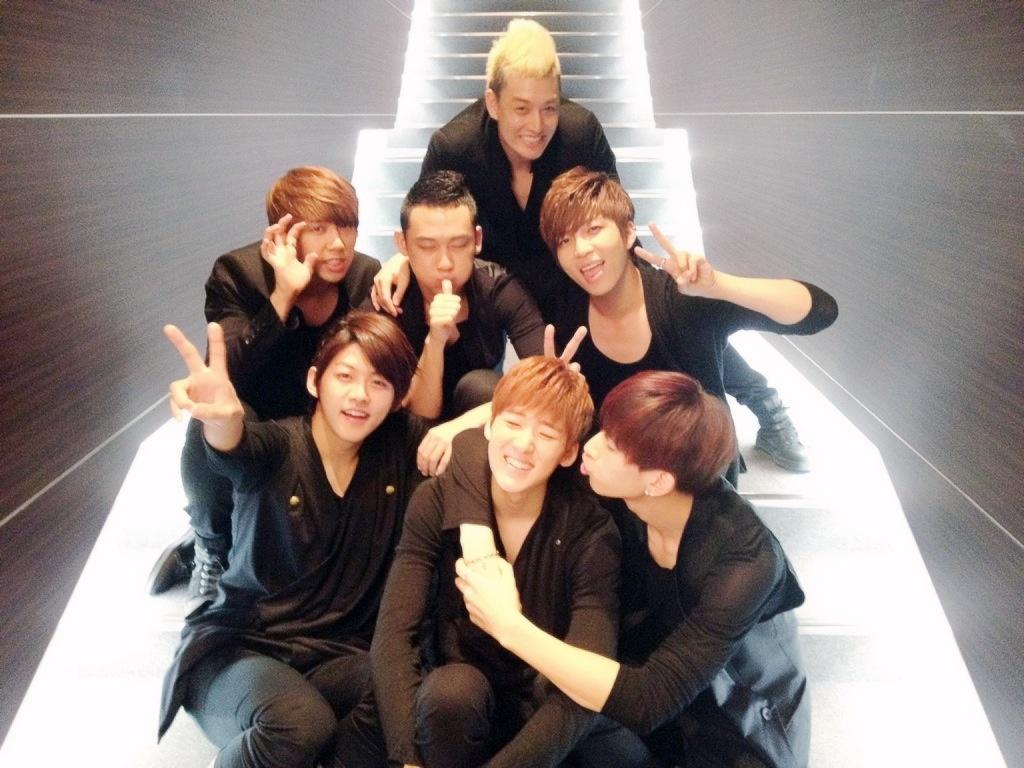 ____________________________________________________________________
Sources:
Wikipedia (hopefully most of it is correct):  U-KISS; M!Countdown; Inkigayo; Music Bank
Various other places